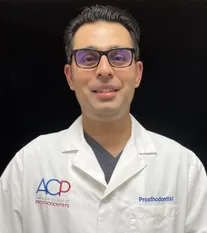 Dr. Omaid K. Ahmad
Board Certification: American Board of Prosthodontics.
Fellowship Training:
Maxillofacial Prosthetics - Memorial Sloan-Kettering Cancer Center, New York.
Specialty Training:
Prosthodontics: University of Connecticut School of Dental Medicine.
OMF Radiology: University of Connecticut School of Dental Medicine.
Dental College: University of Karachi.
Fellow: American College of Prosthodontists, Academy of Dentistry International.
Award: Centennial award OMFR, Valedictorian Dental College.
Memberships: American College of Prosthodontists, American Dental Association, Wisconsin Dental Association, Brown, Door and Kewaunee Dental Society.
Dr. Omaid Ahmad has a warm, caring, enthusiastic personality He is a friendly Board-Certified Prosthodontist and a Maxillofacial Prosthodontist, He is excited to join us from Green Bay area after working at the Veteran Affair Hospital for over 6 years. He has over 20 years of experience as a dentist. He graduated as a gold medalist and a valedictorian of his dental school and then continued his specialty education at the University of Connecticut and the world-renowned Memorial Sloan Kettering cancer center in New York.

Dr. Ahmad is Board Certified in prosthodontics. He is a specialist in dental implants, custom personalized dentures, veneers, crowns and bridges, cosmetic, esthetic dentistry, and much more. Dr. Ahmad's focus is on full-mouth, complex, surgical and reconstructive dentistry.
Dr. Ahmad consider himself a proud Wisconsinite, His family is in Wisconsin for over 25 years. He enjoys travelling, exploring wildlife, football and outdoor activities with his wife and family.
"Being raised in the family of physicians…. from an early age, I was interested in the medical field. I am the only dentist in my family, I think about dentistry as a way I could truly make a difference in people's lives. I choose to become a Dentist, as it is a great combination of several professions, a doctor, an engineer replacing and fabricating teeth and make oral prostheses and as an Artist creating a beautiful smile.
"In both college and dental school, I had a lot of great mentors who guided me toward specialty dentistry. I made more dentures than anyone … I think the highlight of my educational experience was casting family member dentures. He finally could be confident about his smile.
"In prosthodontics, I love the experience, love the interaction with people and love the ability to see results and get my patients' feedback. Unlike general dentistry, prosthodontics lets me create anything I put my mind to, designing exactly what is needed for each unique dental situation. My artistry goes into someone else's mouth and I can put my own signature on it. I want it to last.
"I love to be surrounded by people in the Packerland, who are hard core football fans. I am the Quarterback for your dental work... whether it is a simple crown or a smile makeover, I give full attention to every case. My job is to put all the pieces of puzzle together. I work with the best labs to get you the best results. There is nothing more precious to me to see my patients smile again.
"I have focused my practice on the difficult cases, the complex cases, and the highly aesthetic cases that can't be handled by a general dentist. I want to give you the best service and the best solution I can—something that not only works well and looks great but stays in place for a long time.
"My goal is to have you leave my office knowing you're getting the best quality dental restoration possible and that you don't have to think about what most people take for granted: smiling, eating and talking. Knowing I've done that makes me happy."
Its all about your smile.…and not just what it looks like. I care about your dental health and about how your mouth functions, as well as the esthetic quality of your smile.
"I am passionate about fixing my patients smile. I feel after undergoing several years of intensive training with great mentors, they have carved me from a rock into the fine cut diamond . I am uniquely qualified to address your concerns with your oral health and I consider myself as an architect whose passion is to recreate smiles.
"I am a the only fellowship trained maxillofacial prosthodontist, a board trained prosthodontist specializing in Northeast Wisconsin (N.E.W) and Upper Peninsula ... I am able to offer a multitude of procedures including dental implants and grafting. Using my specialist skills and extensive training, I will work with you to restore your smile and your confidence at my boutique dental practice, I am dedicated to delivering premium service, care, and comfort.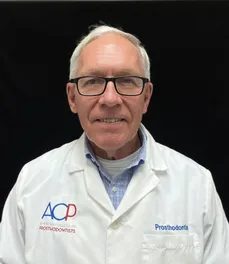 Dr.Jeffrey S. Ryther
Prosthodontics: University of Iowa.
Dental School: Marquette University.
Memberships: American College of Prosthodontists, American Dental Association, Wisconsin Dental Association, Brown, Door and Kewaunee Dental Society.